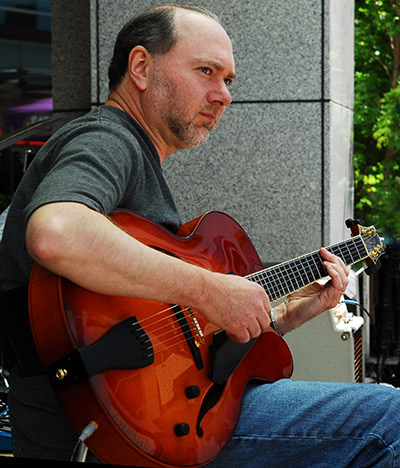 Dave Peterson photo by Harlan Chinn
A Northwest jazz icon for 40 years, Dave Peterson is a musician's musician who has always been about the art and craft of composition and guitar playing, having composed a hundred works for his own bands or larger pieces for groups like the Seattle Composers and Improvisors Orchestra. A core faculty member at the Cornish College of the Arts from 1977 to 2012, he's performed and recorded with Art Lande, Paul McCandless, Dave Liebman, Bob Moses, Dave Friesen, Paul Motion, Benny Wallace, Gary Peacock, Chuck Israels, Chet Baker, Bud Shank, Esther Phillips, Eddie Harris, Buddy DeFranco, Big Joe Turner, Eddie Vinson, Julian Priester, and many others. 

His 2004 recording, "Portal" with bassist Chuck Deardorf, shows off his highly melodic compositions and soloing well. That album went on to be used as sample music for Windows XP and provided the theme music for PRI's "Selected Shorts" out of Symphony Space in New York. All About Jazz recognized Peterson's fluid style: "Peterson invokes a lot of memories of Montgomery with his tone and highly accessible melodic solos." Most of all, the jazz musicians Peterson has played with have only high and undying praise for this master.

Dave Peterson attended Western Washington University studying composition, and studied music at  Everett Community College. Dave taught guitar performance, ear training, arranging, and jazz ensembles at Cornish College of the Arts from 1977 to 2012. Dave has performed on many CDs with various artists including a solo release: "After Image," on the Nebula label.